I have an announcement to make that's very important…It's officially time to put away the snow boots and break out the warmer weather shoes! Let's hope this last snow was the last snow.
I love this time of year – say goodbye to seasonal depression and hello to sunshine! If I'm being honest seasonal depression hit me super hard this year and I just can't wait for it to be over.
Also, a major life event happened to me so I have been dealing with that for a while, more on that later.
For now, lets talk sneakers! Air Force 1's are back in full swing and I need need a pair – Check out Finish Line and use code 5OFF75RMN for $5 off $75 purchase. Limited sizing so hurry on over!
If your size is sold out there, look at SSENSE. Nordstrom also usually has them but most sizes are sold out. Keep in mind, it's one of the most popular and iconic sneakers of all time. Since those are pretty hard to find, let's check out a similar sneaker: The Air Force 1 Sage Low in white/white found at Nordstrom but sizes are again selling out fast.
Also, if you wanted to achieve a similar look for much less then you could go with the Nike Court Vision Low in white/white – $64.95 vs. AF1 at $90-$160(depending on where you find them).
Sidenote: My dream AF1's are this pair. Use code FIRST10 for 10% off at Net-A-Porter for first time buyers.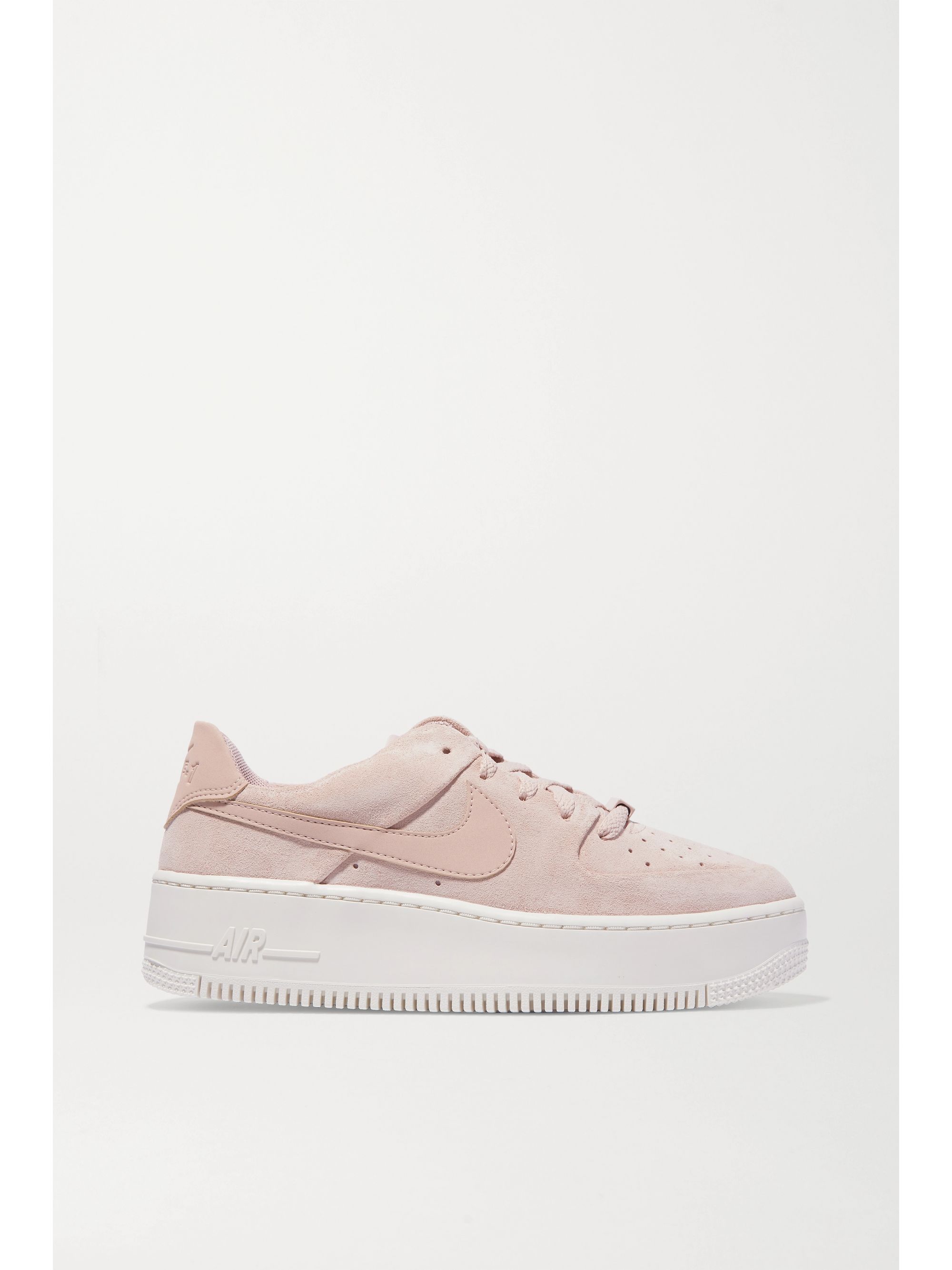 So what do we think about platform sneakers – yes or no? Some of my favorites are from CONVERSE and Superga
One of the best pair of sneakers I've purchased for under $100 is these Holographic Nikes – can be found at Nordstrom Rack or DSW
OKAY enough sneaker talk, let's get into Designer slides. Last year, I wrote a blog post on Pink Gucci Slides and where to find them. Check it out here. This year GUCCI has a whole new vibe – meet the Barbie heel, as I refer to it. It totally looks like the shoes your barbie used to sport. The real style name is: Women's Rubber Slide Sandal and they come in so many fun spring colors. But yeah, I'm not really looking to spend $360 on rubber barbie shoes but to each their own ya know.
R U C H E D heels – you've seen the bloggers wear them, are a major trend this spring and will probably fall into Summer as well. The ruched detail give the shoes such a feminine, chic vibe. I want a fun color like bright pink or might stick to a more neutral pair like these to match everything. But this wouldn't be the Affordable Style Blog if I left yall with $320 ones from STAUD brand at Bloomingdales now would it?! Nope, let's find the look for less. I am absolutely crushing on these AMAZING ruched heels from Dolce Vita found at Nordstrom Rack for under $60.
Another trend seen on celebs and high end bloggers is the mod toe shoe – think square toe with rope straps like Bottega Veneta $600 but for less. Such as, RAYE Ozzie Heel in White from Revolve for $178 OR Braided Square Toe Sandals from Forever 21 for $17.99.
Another huge trend I've noticed is Chanel – esque shoes. Not everyone can fork out thousands for fancy shmancy Chanel shoes, but we can get the look for less with these Quilted sandals from ASOS by Public Desire. Use code ASOSNEWTREAT for 20% off $50+ purchase for new customers. These Margie Black Multi Sandals from Steve Madden also fit the bill and I am obsessed with the gold lock (add to cart please).
Just Fab has another pair of shoes that remind me of Chanel – check out Cocco Chain Detail Flat in beige/black.
What are your favorite Spring shoe trends? Let me know in the comments!
Ashley, Affordable Style